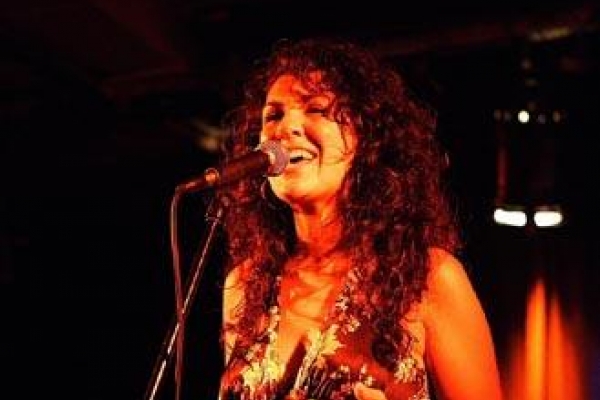 Virna
"Virna is informed by her fine melodic sensitivity, her sophisticated understanding of the jazz tradition and above all, her characteristically rich, soul-drenched feel. DRUM MEDIA Having released her highly acclaimed, debut album in 2005, Virna Sanzone, is emerging as one of Australia's most captivating singers. Deeply soulful, yet with the ability to sail effortlessly through the most intricate jazz melodies, her passionate delivery and understated approach have seen her compared to vocal masters from Roberta Flack and KD Lang to Shirley Horne.
Enquire Now
Ain't Misbehavin' My One & Only Love
All Blues My Romance
All Of Me My Shining Hour
All The Things You Are My Ship
Almost Like Being In Love Nature Boy
Angel Eyes Nearness Of You
At Last Never Let Me Go
Autumn Leaves Nice Work If You Can Get It
Beautiful Friendship Night & Day
Beautiful Love No Moon At All
Besame Mucho Old Devil Moon
Blame It On My Youth On A Clear Day
But Beautiful Once I Loved
Bye Bye Blackbird One Note Samba
Can't We Be Friends Our Love Is Here To Stay
Caravan Pennies From Heaven
Chega De Saudade (No More Blues) Perhaps Perhaps Perhaps
Close Your Eyes Recado Bossa Nova
Comes Love Round Midnight

Corcovado (Quiet Night of Quiet Stars) Save Your Love For Me
Day By Day Since I Fell For You
Day In The Life Of A Fool Skylark
Detour Ahead Softly As In A Morning Sunrise
Desafinado So In Love
Dindi Someday My Prince Will Come
Do Nothing Till You Hear From Me Someone To Light Up My Life
Don't Get Around Much Anymore Someone To Watch Over Me
Fever Sometimes I'm Happy
Fly Me To The Moon Song For My Father
For All We Know The Song Is You
Gee Baby Ain't I Good To You So Nice (Summer Samba)
Ghost Of A Chance Stella By Starlight
Girl From Ipanema Stormy Weather
Girl Talk Summertime
Hallelujah I Love Him So Sway
Honeysuckle Rose Tangerine
How High The Moon Teach Me Tonight
I Could Write A Book Tenderly
If You Never Come To Me That's All

I'll Remember April There Is No Greater Love
In A Mellow Tone There Will Never Be Another You
In A Sentimental Mood These Foolish Things
Insensatez (How Insensitive) They Can't Take That Away From Me
I Remember You This Masquerade
I Thought About You Triste
It Could Happen To You Tuxedo Junction
It's All Right With Me Very Thought Of You
I've Got The World On A String Vivo Sonhando
I've Never Been In Love Before Wait Till You See Him
La Vie En Rose Watch What Happens
Lazy Afternoon Wave
Let's Fall In Love Way You Look Tonight
Like A Lover We'll Be Together Again
Like Someone In Love West Coast Blues
Little Boat What A Difference A Day Made
Love For Sale What Are You Doing The Rest Of Your Life
Loverman What A Wonderful World
Lullabye Of Birdland What Is This Thing Called Love
Makin' Whoopee When I Fall In Love

Meditation Willow Weep For Me
Misty You Don't Know What Love Is
Mood Indigo You Go To My Head
My Baby Just Cares For Me You're My Thrill
My Foolish Heart Your Mind Is On Vacation
My Funny Valentine You've Changed

Ain't No Sunshine – Bill Withers
And I Love Him – Beatles
A Change Is Gonna Come
As – Stevie Wonder
Baby I Love You – Aretha Franklin
Back To Love – Brand New Heavies
Bird Of Beauty – Stevie Wonder
Blame It On The Boogie – The Jacksons
By Your Side – Sade
Chain Of Fools – Aretha Franklin
Come Back Baby – Ray Charles
Come To Mamma – Anne Peebles
Compared To What – Roberta Flack / Les McCann
Crazy Love – Van Morrison
Creepin' – Stevie Wonder
Cruisin' – Smokey Robinson / D'Angelo
Dancin' In The Street – Martha And The Vandellas
Daydreamin' – Aretha Franklin
Dock Of The Bay – Otis Redding
Don't You Worry 'Bout A Thing – Stevie Wonder/Incognito

Dr Feelgood – Aretha Franklin
Fallen – Lauren Wood
Family Affair – Sly and the Family Stone
Feel Like Makin' Love – Roberta Flack /D'Angelo
Fields Of Gold – Sting / Eva Cassidy
Fire & Rain – James Taylor
Got To Give It Up – Marvin Gaye
Groove Me – King Floyd
Groovin' – Aretha Franklin
Hallelujah I Love Him So – Ray Charles
Have A Talk With God – Stevie Wonder
Have I Told You Lately That I Love You – Van Morrison
Heading In The Right Direction – Renee Geyer
Heaven Help – Lenny Kravitz / Angie Stone
Higher Ground – Stevie Wonder
How Deep Is Your Love – Bee Gees
How Sweet It Is To Be Loved By You – Marvin Gaye / James Taylor
I Can't Stand The Rain – Anne Peebles
I Don't Wanna Wait In Vain – Bob Marley
I Feel For You – Prince / Chaka Khan

I Feel Good – James Brown
If I Were Your Woman – Gladys Knight / Alicia Keys
I Feel The Earth Move – Carole King
I Got The Right Street – Rufus feat. Chaka Khan
I Heard It Through The Grapevine – Marvin Gaye
I Love You More Than You'll Ever Know – Donny Hathaway
I'm Gonna Tear Your Playhouse Down – Anne Peebles
Inner City Blues – Marvin Gaye
In The Dark – Nina Simone
In The Mood – Jon Cleary
In Your Arms Again – Curtis Mayfield
I Say A Little Prayer – Aretha Franklin
I Will Survive – Gloria Gaynor
Jealous Guy – Donny Hathaway
Just The Two Of Us – Bill Withers
Killing Me Softly – Roberta Flack/Fugees
Kissing My Love – Bill Withers
Knock On Wood – Eddie Floyd
Knocks Me Off My Feet – Stevie Wonder
Let's Stay Together – Al Green

Let Us Love – Bill Withers
(The) Look Of Love – Dusty Springfield
Love To The People – Curtis Mayfield
Midnight At The Oasis – Brand New Heavies
Moondance – Van Morrison
Natural Woman – Carol King/Aretha Franklin
Never Let Me Go – Aretha Franklin
Rescue Me – Fontella Bass
Respect – Aretha Franklin
Rock Steady – Aretha Franklin
Sexual Healing – Marvin Gaye
Signed Sealed Delivered – Stevie Wonder
Someday We'll All Be Free – Donny Hathaway
Someone Like You – Van Morrison
Songbird – Fleetwood Mac / Eva Cassidy
Son Of A Preacherman – Dusty Springfield
Stand By Me – Percy Sledge
Still A Friend Of Mine – Incognito
Sunny
Superstition – Stevie Wonder

Sweet Love – Anita Baker
Sweet Thing – Chaka Khan
Tell Me – Groove Theory
Tell Me Something Good – Rufus feat. Chaka Khan
Thank You – Dido
There's Nothing Like This – Omar
Tryin Times – Roberta Flack
Until You Come Back To Me – Aretha Franklin
Use Me – Bill Withers
Walkin' In The Sun – Rufus feat. Chaka Khan
Walk On By – Dionne Warwick/Burt Bacharach
We Are Family – Sister Sledge
What A Man – Lynda Lydell
What's Goin' On – Marvin Gaye/Donny Hathaway
Who Is He – Bill Withers / Meshell Ndegocello
Woman's Gotta Have It – Bobby Womack/Wendy Matthews
You're All I Need To Get By – Marvin Gaye & Tammi Terrell
You've Got A Friend – Carole King / Roberta Flack/Donny Hathaway

Italian songs

Anema E Core
Arrivederci Roma
Come Prima
Io So Che Ti Amero
Luna Rossa
Na Voce Na Chitarra E O Poco 'E Luna
Quando Quando Quando
Rose Rosse Per Te
Si E Spento Il Sole
T'ho Voluto Bene
Ti Si Na Cosa Grande
Volare
and many more!and many more!