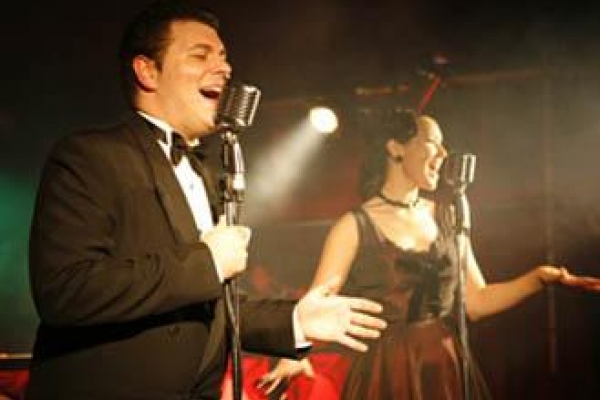 The Velvet Set
Hosting a 30's, 40's or 50's themed night? A Gangsters & Flappers Ball? Black Tie or Swing dancing extravaganza? For any corporate event or product launch needing some cool jazz tunes or great swing music you need look no further as the Velvet Set has arrived! The Velvet Set can give your corporate event that extra bit of pizzazz that only a great live band can deliver! Be it laid back instrumental jazz, 1930's & 40's classics , the rat-pack's greatest hits or full-tilt swing for dancing through the night we have all the bases covered.
Enquire Now
With a repertoire of more than 100 songs covering all the classics from the 1930's, 40's & 50's The Velvet Set can tailor a show to suit your specific needs. They can also perform songs by request if there's something special you'd really love to hear (prior notice required).
Below is a small selection from the band's current repertoire:
Ain't that a kick in the head Dean Martin
A Tisket A Tasket Ella Fitzgerald
All of me Frank Sinatra
Baby it's cold outside Dean Martin & Doris Day
Beyond the sea Bobby Darin
Cheek to cheek Peggy Lee
Come fly with me Frank Sinatra
Feeling good Nina Simone
Fly me to the moon Frank Sinatra
Hey Pachuco Royal Crown Review
I've got you under my skin Frank Sinatra

Moonlight in Vermont Ella Fitzgerald
More Bobby Darin
Minnie the Moocher Cab Calloway
My baby just cares for me Nina Simone
My way Frank Sinatra
New York, New York Frank Sinatra
Nice work if you can get it Frank Sinatra
Night & day Frank Sinatra
Nobody but Me Lou Rawls
Orange coloured sky Natalie Cole
Perhaps, perhaps, perhaps Peggy Lee
Route 66 Nat King Cole
Saturday night (is the loneliest night of the week) Frank Sinatra
Straighten up & fly right Nat King Cole
I'm beginning to see the light Ella Fitzgerald
Love is the tender trap Frank Sinatra

Zoot suit riot Cherry Poppin' Daddies
Sway Julie London
That old black magic Sammy Davis Jnr
The Lady is a tramp Ella Fitzgerald
The way you look tonight Frank Sinatra
Too darn hot Mel Torme
You make me feel so young Frank Sinatra
Is you is or is you ain't my baby Dinah Washington
It don't mean a thing (if it ain't got the swing) Ella Fitzgerald
It's only a paper moon Ella Fitzgerald
Let's fall in love Frank Sinatra
Mack the knife Bobby Darin
Hit the road Jack Ray Charles
Fever Peggy Lee
Please note: The Velvet Set is more than happy for clients to choose a few songs from our repertoire they'd love to hear however in order to provide you with the best possible show we prefer to perform our own pre determined set lists.