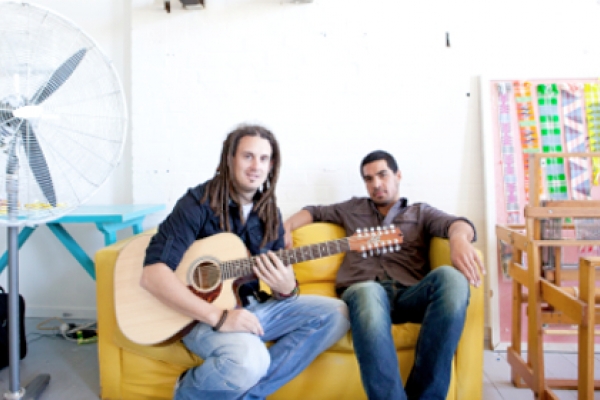 No One Knows
No One Knows combines the blistering guitar solos of Leighton Splatty Splatt with the smooth vocals and funky drum grooves of David Dave Havea. The result is an eclectic acoustic duo, equally adept at creating a laid back atmosphere as they are at getting the dance floor started!
Enquire Now
3 Little Birds
About A Girl
Aeroplane
Ain't No Sunshine
Alive
All Along The Watchtower
All Right Now
Always On The Run
Angel's Son
Are You Gonna Go My Way
At Last
Babylon
Banquet
Basketcase
Betterman (John Butler Trio)
Betterman (Pearl Jam)
Bittersweet Symphony
Black Black Fingernails
Blister In The Sun
Bohemian Like You

Black Hole Sun
Blackbird
Breaking The Girl
Brown Eyed Girl
Brown Sugar
Can't Buy Me Love
Champagne Supernova
Chasing Cars
Chemical Heart
Clocks
Come Together
Corner Of The Earth
Cosmic Girl
Could You Be Loved
Crash
Crazy
Crazy Little Thing
Creep
Cryin' Shame
Dani California

Daughter
Disarm
Dock Of The Bay
Dolphins Cry
Don't Look Back In Anger
Dream On
Drive
Drugs Don't Work
Dumb Things
Easy
El Mariachi
Elderly Woman Behind The Counter
Eleanor Rigby
Everlong
Every Me, Every You
Evie
Fake Plastic Trees
Feel Good Inc
Fly Away
Fortunate Son

Freefallin'
Friday I'm In Love
From The Sea
Funky Tonight
Gansters Paradise
Get Back
Ghostbusters
Gimme Shelter
Go With The Flow
God Put A Smile
Hallelujah
Hard Days Night
Heart Shaped Box
Here Comes The Sun
Hey Ya
Hide Your Love Away
High & Dry
Holy Grail
Horse With No Name
Hotel California

House Of The Rising Sun
Hurt
I Am
The Highway
I Could Have Lied
I Saw Her Standing There
I Wanna Make It Wit Chu
I Will Survive
In The Air Tonight
Iris
It's Been A While
Jammin' Jeremy
Karma
Kids
Knockin' On Heavens Door
Lady
Last Night
Layla
Lit It Be
No Woman no Cry

Lightening Crashes
Let's Get It On
Let's Stay Together
Little Sister
Long Train Running
Love Cats
Love Her Madly
Lucky Man
Mad World
Man Who Sold The World
Master Blaster
Message In A Bottle
Molly's Chambers
Monkey Wrench
Moondance
Mr Jones
Mr Brightside
My Friends
My Happiness
My Hero

Never Tear Us Apart
No One Knows
No Such Thing
No Woman No Cry
Norwegian Wood
Nothing Else Matters
Nothing Man
On Broadway
On My Mind
Our Time Is Running Out
Paint It Black
Pardon Me
Passenger
Peaches & Cream
Personal
Proud Mary
Purple Rain
Razor
Real Love
Rehab

Ring Of Fire
Road Trippin'
Sail Away
Save Tonight
Seven Nation Army
Sex On Fire
Sexual Healing
She's Electric
Shimmer
Songbird
Sorry Ms Jackson
Stairway To Heaven
Steal My Kisses

And many more!