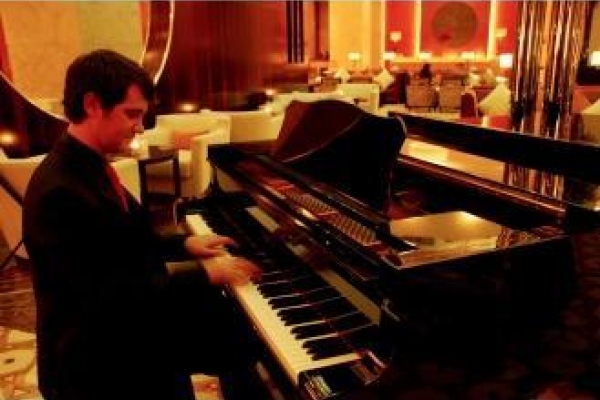 Alan Goodman
Alan Goodman is one of Australias most sought after pianists. An inspiring artist, whose solo playing includes a blend of smooth Bossa Nova grooves from Jobim to the easy and abstract feel of Bill Evans – an uplifting listening experience. Alan was so popular as the resident solo pianist at Dubais prestigious 7 Star, Grosvenor House Hotel, that he held the position for two years.
Enquire Now
POP SONGS:

The Beatles – And I Love Her
The Beatles – Stand By Me
The Beatles -Norweigen Wood
The Beatles – Yesterday
Cyndi Lauper – Time After Time
Cyndi Lauper – True Colours
Stevie Wonder – I Just Called To Say (I Love You)
Stevie Wonder – My Cherie Amore
Elton John – Your Song
Elton John – Candle In the Wind
Roberta Flack – Killing Me Softly
Roberta Flack – Feel Like Making Love
Burt Bacharach/The Carpenters – Close To You
Burt Bacharach/Dusty Springfield – Look Of Love
James Blunt – Your Beautiful

Carol King- You've Got A Friend
Norah Jones – Come Away With Me
Brian Adams – Everything I Do
Rod Stuart – I Am Sailing
Billie Joel – Just The Way You Are
Chris Deburg – Lady In Red
Bill Withers – Aint No Sunshine
Marvin Gaye – What's Going On
The Doors – Light My Fire

JAZZ TUNES:

As Time Goes By
Fly Me To The Moon
What A wonderful World
Bye Bye Blackbird
Someone To Watch Over Me

Night And Day
Misty
Somewhere Over The Rainbow
The Way You Look Tonight
Moon River
Besame Mucho
Nature Boy
Cry Me A River
Georgia
Blue Moon
My Funny Valentine
Tenderly
When I Fall In Love
All Blues
All The Things You Are
Autumn Leaves
Au Privave

Blue Monk
Billie's Bounce
Confirmation
Caravan
Green Dolphin St
Gloria's Step
I Thought About You
Like Someone In Love
Little Waltz
My Foolish Heart
My Favorite Things
My Romance
Now's The Time
Nardis
Night In Tunisia
Peri's Scope
Stella By Starlight
Solar

Summertime
There Is No Greater Love
Take Five
Waltz for Debby

BOSSA TUNES:

Alone Together
Blue Bossa
Black Orpheus
Desifnado
Dindi
Girl From Ipanema
How Insensitive
Here's That Rainy Day
I'll Remember April
Invitation
Song For My Father

Shadow Of Your Smile
St Thomas
Triste
This Masquerade
Wave

BALLADS:

Ask Me Now
Blue In Green
Early Autumn
Footprints
In A Sentimental Mood
Round Midnight
Search For Peace
Time Remembered

And many more!