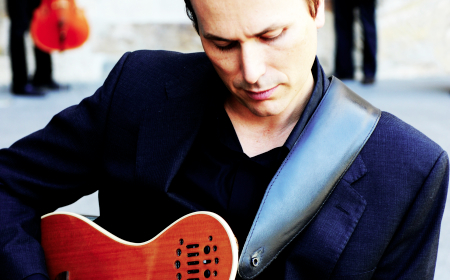 Gavin Libotte
Grace, beauty fire and passion. Nylon string and steel string guitar at it's finest, this act is fantastic for restaurants, weddings, functions, wineries etc.
Download Song List
Enquire Now!
Description
A Bit About Gavin Libotte
Gavin is originally from Kent England, he studied classical guitar with Perth virtuoso Stephan Bulmer and Colin Reeves and then went on to complete his Jazz music training at the Perth Conservatorium of Music and was soon on the world stage.
Gavin's guitar playing is one of grace, beauty, fire and passion, he is one of the finest guitarists  in town.   Gavin is perfect for intimate weddings, corporate functions, wineries and restaurants.
He has performed at numerous venues and festivals including the Bellingen Global Carnival, Manly Jazz festival, the Basement, The Vanguard and many more.
Gavin also performs with Leading Sydney Guitar band Urban Gypsies, Alchemy and European vocal duo/trio Breakfast at Tiffany's.
Songlist
Original songs

Beautiful Catastrophe
 Espionage
Fuseology
Dark Angel
String theory
My Place
3 for me
The Promise
Secret Agent
Gypsy Fever
Alchemy
 Voyageur
Chloe meets the phantom
 Shadowfax
Adventures
 The Dragons Lair
Young Tiger
Peace March
Kyra's waltz
Loose
Time Lapse
Breathe
Sara'a groove
To Bahia with love
The Travellers song
The Great Enigma
mistify
fox

Jazz Standard/Jazz Fusion

Softly as in a morning sunrise
500 miles high
 little sunflower
giant steps
caravan
donna lee
have you met miss jones
all the things you are
a night in Tunisia
stella by starlight
autumn leaves
april joy
cantaloupe island
chameleon
bright size life
freddie the freeloader
road song
all blues
 the chicken
nature boy
james

Latin Standard

black Orpheus
 desafinado
girl from impanema
wave
 Bananeiro
Samurai
Jazz n samba
Incompatibilidade de genios
Meditation
Corcovado
Triste
No more blues
how insensitive
besame mucho
chan chan
one note samba

Popular Songs

Cinema paradiso love theme
Time after time
Isn't she lovely
Recuerdos de la Alhambra
Don't know why
Theme from the godfather
Message in a bottle
Heard it on the Grapevine
Little Wing