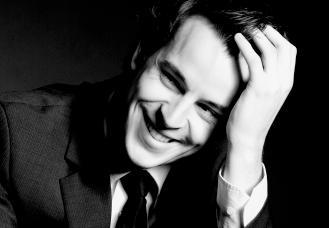 Elijah
Elijah is charming, talented and simply oozes the "WOW" factor, allowing him to win over audiences of all ages. His vocals and guitar skills are amongst the best in town, creating a connection with the audience, other performers do not achieve.
So if your function demands a highly professional, refreshing and entertaining act, book Elijah today.
Download Song List
Enquire Now!
Description
A Bit About Elijah
Elijah has that special star quality that spark that makes him shine as a performer.  He is an experienced entertainer with vocals that connect with an audience.
Elijah has been playing and singing jazz and swing since he was 16 when he performed in a big band.  Today he is a diversified performer covering all styles of contemporary music – pop, rock, soul and, of course, top 40 which he does  with style.
With the ability to create an intimate, unplugged atmosphere, Elijah's acoustic and vocal stylings are up there with the best. And when it's time to get the party started, he brings the venue to life playing to professionally produced full-band backing tracks.
If you want the best in the business book Elijah today.
Songlist
 Jazz/Swing/Big Band

A Wink And A Smile (Harry Connick Jr.)
Ain't That A Kick In The Head (Robbie Williams)
Almost Like Being In Love (Frank Sinatra)
At Last (Etta James)
Beyond The Sea (Bobby Darin)
Can't Help Falling In Love (Elvis Presley)
Can't Take My Eyes Off You (Frankie Valli)
Cheek To Cheek (Frank Sinatra)
Come Fly With Me (Frank Sinatra)
Don't Get Around Much Anymore (Michael Bublé)
Don't Know Why (Norah Jones)
Fever (Michael Bublé)
Fly Me To The Moon (Frank Sinatra)
Foggy Day (Michael Bublé)
For Once In My Life (Michael Bublé)
Give Me The Simple Life (Steve Tyrell)
Hallelujah I Love Her So (Ray Charles)
Home (Michael Bublé)
How Sweet It Is (Michael Bublé)
I Get A Kick Out Of You (Frank Sinatra)
I Won't Dance (Frank Sinatra)
I'll Always Love You (Day After Day) (Dean Martin)

I'm In The Mood For Love (Nat King Cole)
I've Got The World On A String(Frank Sinatra)
I've Got You Under My Skin (Frank Sinatra)
In The Wee Small Hours Of The Morning (Frank Sinatra)
It Had To Be You (Jazz Standard)
Just In Time (Tony Bennett)
L O V E (Nat King Cole)
Learnin' The Blues (Frank Sinatra)
Let There Be Love (Frank Sinatra)
Let's Face The Music And Dance (Robbie Williams)
Luck Be A Lady (Frank Sinatra)
Mack The Knife (Bobby Darin)
Mambo Italiano (Dany Brillant)
Memories Are Made Of This (Dean Martin)
Moondance (Michael Bublé)
My Funny Valentine (Michael Bublé)
My Girl (The Temptations)
My Way (Frank Sinatra)
New York, New York (Frank Sinatra)
Nice 'n Easy (Frank Sinatra)

Perhaps, Perhaps, Perhaps (Doris Day)
Please Don't Talk About Me (Dean Martin)
Route 66 (Nat King Cole)
Save The Last Dance (Michael Bublé)
Steppin' Out With My Baby (Tony Bennett)
Sway (Michael Bublé)
That's All (Michael Bublé)
That's Amore (Dean Martin)
That's Life (Frank Sinatra)
The Girl From Ipanema (Frank Sinatra)
The Lady Is A Tramp (Frank Sinatra)
The More I See You (Michael Bublé)
The Summerwind (Michael Bublé)
The Way You Look Tonight (Frank Sinatra)
Unchain My Heart (Ray Charles)
Unforgettable (Nat King Cole)
What A Wonderful World (Louis Armstrong)
You Don't Know Me (Michael Bublé)

 Pop/Rock

Absolutely (Story Of A Girl) (Nine Days)
Accidentally In love (Counting Crows)
All The Small Things (Blink 182)
Black And Gold (Sam Sparro)
Breakfast At Tiffany's (Deep Blue Something)
Can't Get Enough Of You Baby (Smash Mouth)
Daughters (John Mayer)
Drive (Incubus)
Everything (Michael Bublé)
Follow Me (Uncle Kracker)
Free (Jack Johnson)
Girl I Wanna Lay You Down (Jack Johnson)
Grace Kelly (Mika)
Haven't Met You Yet (Michael Bublé)
Hot 'n' Cold (Katy Perry)
How Far We've Come (Matchbox Twenty)
I Bet You Look Good On The Dancefloor (Arctic Monkeys)
I'm Yours (Jason Mraz)
Island In The Sun (Weezer)

It's My Life (Bon Jovi)
Kiss Me (Sixpence None The Richer)
Last Request (Paolo Nutini)
Learn To Fly (Foo Fighters)
Life Is A Rollercoaster (Ronan Keating)
Lonely No More (Rob Thomas)
Lovin' Each Day (Ronan Keating)
Next Year (Foo Fighters)
Opportunity (Pete Murray)
Rock & Roll (Eric Hutchinson)
Rock Your Body (Justin Timberlake)
Save Tonight (Eagle Eye Cherry)
Semi-Charmed Life (Third Eye Blind)
Sex On Fire (Kings Of Leon)
Sexyback (Justin Timberlake)
She Moves In Her Own Way (The Kooks)
She's So High (Tal Bachman)
Shimmer (Fuel)
Slide (Goo Goo Dolls)
Smile (Uncle Kracker)
Smooth (Rob Thomas & Santana)

Somebody Like You (Keith Urban)
Somebody Told Me (The Killers)
Somebody's Crying (Chris Isaak)
Song 2 (Blur)
Stacy's Mom (Fountains Of Wayne)
Take Your Mama (Scissor Sisters)
The Middle (Jimmy Eat World)
There She Goes (Sixpence None The Richer)
This Is How A Heart Breaks (Rob Thomas)
Tubthumping (Chumbawumba)
Use Somebody (Kings Of Leon)
Viva La Vida (Coldplay)
Waiting On The World To Change (John Mayer)
Who Says (John Mayer)
Yellow (Coldplay)
You and Me (Lifehouse)
Your Body Is A Wonderland (John Mayer)

 Jazz/Swing/Big Band

A Wink And A Smile (Harry Connick Jr.)
Ain't That A Kick In The Head (Robbie Williams)
Almost Like Being In Love (Frank Sinatra)
At Last (Etta James)
Beyond The Sea (Bobby Darin)
Can't Help Falling In Love (Elvis Presley)
Can't Take My Eyes Off You (Frankie Valli)
Cheek To Cheek (Frank Sinatra)
Come Fly With Me (Frank Sinatra)
Don't Get Around Much Anymore (Michael Bublé)
Don't Know Why (Norah Jones)
Fever (Michael Bublé)
Fly Me To The Moon (Frank Sinatra)
Foggy Day (Michael Bublé)
For Once In My Life (Michael Bublé)
Give Me The Simple Life (Steve Tyrell)
Hallelujah I Love Her So (Ray Charles)
Home (Michael Bublé)
How Sweet It Is (Michael Bublé)
I Get A Kick Out Of You (Frank Sinatra)
I Won't Dance (Frank Sinatra)
I'll Always Love You (Day After Day) (Dean Martin)

I'm In The Mood For Love (Nat King Cole)
I've Got The World On A String(Frank Sinatra)
I've Got You Under My Skin (Frank Sinatra)
In The Wee Small Hours Of The Morning (Frank Sinatra)
It Had To Be You (Jazz Standard)
Just In Time (Tony Bennett)
L O V E (Nat King Cole)
Learnin' The Blues (Frank Sinatra)
Let There Be Love (Frank Sinatra)
Let's Face The Music And Dance (Robbie Williams)
Luck Be A Lady (Frank Sinatra)
Mack The Knife (Bobby Darin)
Mambo Italiano (Dany Brillant)
Memories Are Made Of This (Dean Martin)
Moondance (Michael Bublé)
My Funny Valentine (Michael Bublé)
My Girl (The Temptations)
My Way (Frank Sinatra)
New York, New York (Frank Sinatra)
Nice 'n Easy (Frank Sinatra)

Perhaps, Perhaps, Perhaps (Doris Day)
Please Don't Talk About Me (Dean Martin)
Route 66 (Nat King Cole)
Save The Last Dance (Michael Bublé)
Steppin' Out With My Baby (Tony Bennett)
Sway (Michael Bublé)
That's All (Michael Bublé)
That's Amore (Dean Martin)
That's Life (Frank Sinatra)
The Girl From Ipanema (Frank Sinatra)
The Lady Is A Tramp (Frank Sinatra)
The More I See You (Michael Bublé)
The Summerwind (Michael Bublé)
The Way You Look Tonight (Frank Sinatra)
Unchain My Heart (Ray Charles)
Unforgettable (Nat King Cole)
What A Wonderful World (Louis Armstrong)
You Don't Know Me (Michael Bublé)

Classic Pop/Rock

500 Miles (The Proclaimers)
Bad Case Of Loving You (Robert Palmer)
Bad Moon Rising (CCR)
Bad, Bad Leroy Brown (Jim Croce)
Blackbird (The Beatles)
Blister In The Sun (The Violent Femmes)
Blues Suede Shoes (Elvis Presley)
Brown Eyed Girl (Van Morrison)
Centrefold (J. Geils Band)
Crazy Little Thing Called Love (Queen)
Crocodile Rock (Elton John)
Dancing In The Streets (Motown)
Daydream Believer (The Monkees)
Eagle Rock (Daddy Cool)
Everybody Needs Somebody To Love (Blues Brothers)
Faith (George Michael)
Footloose (Kenny Loggins)

Gimme Some Lovin' (Blues Brothers)
Gloria (Van Morrison)
Good Lovin' (The Young Rascals)
Great Balls Of Fire (Jerry Lee Lewis)
Hound Dog (Elvis Presley)
I Got You (I Feel Good) (James Brown)
I Saw Her Standing There (The Beatles)
I'm A Believer (The Monkees)
It Must Be Love (Labi Siffre)
Jailhouse Rock (Blues Brothers)
Jessie's Girl (Rick Springfield)
Layla (Eric Clapton)
Mustang Sally (The Commitments)
My Sharona (The Knack)
Old Time Rock & Roll (Bob Segar)
Proud Mary (CCR)
Rock Around The Clock (Bill Hailey)
Shake Your Tailfeather (Blues Brothers)

So Happy Together (The Turtles)
Soul Man (Blues Brothers)
Splish Slash (Bobby Darin)
Stuck In The Middle With You (Steelers Wheel)
Sweet Caroline (Neil Diamond)
Sweet Home Alabama (Lynyrd Skynyrd)
Sweet Home Chicago (Blues Brothers)
Taking Care Of Business (BTO)
To Her Door (Paul Kelly)
Turning Japanese (The Vapors)
Twist And Shout (The Beatles)
What I Like About You (The Romantics)
You Really Got Me (The Kinks)